Find Your New Cadillac for Sale at Our Dealership in El Paso, TX
Have a luxurious experience when you come to Bravo Cadillac for a new Cadillac for sale. From stunning sedans to ground-breaking SUVs, our selection is full of this iconic brand's latest and greatest offerings. Discover the benefits of shopping for a brand-new Cadillac vehicle with us.
Explore New Cadillac Sedans
Five beautiful sedans make up about half of the new Cadillac model lineup. Each model highlights the unique style and modern appeal of this brand. Take a closer look at each of these sleek new Cadillac sedans to see if they fit you.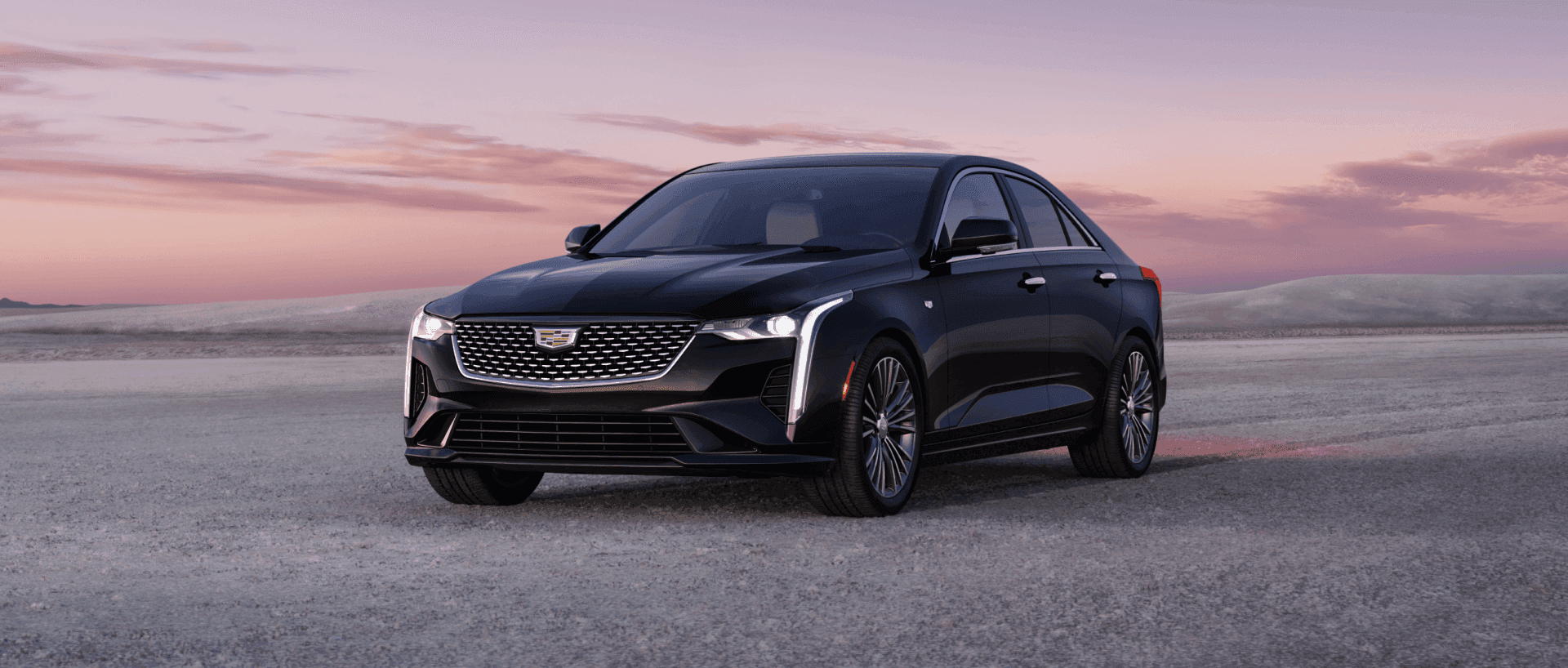 Cadillac CT4
Starting with the Cadillac CT4, this compact luxury sedan, is a little wonder on the street. For 2023, it comes standard with a 2.0-liter twin-scroll turbocharged engine. An eye-catching grille and gorgeous color options spice up the exterior, while inside, premium seating options, a full-color infotainment screen, and a Cadillac Smart System suite of advanced safety features make this car feel like home.
Cadillac CT4 V-Series
Speed away with even more power and sporty performance with the CT4-V or the CT-4 V Blackwing. With a 2.7-liter dual-volute turbocharged I-4 or a 3.6-liter Cadillac-exclusive twin-turbocharged V-6, you can zoom down the highway like you own it.
Cadillac CT5
Increase the space in your ride in the Cadillac CT5. This gorgeous sports sedan has a similar style and features to the CT4 model but comes in a midsize frame for drivers who need more room on the road.
Cadillac CT5 V-Series
Bigger engines and bigger power make an appearance in the Cadillac CT5 V-Series. Choose from the 3.0-liter twin-turbocharged V-6 in the CT5-V or the incredible 6.2-liter hand-built supercharged V-8 in the CT5-V Blackwing model.
Cadillac CELESTIQ
Curious about Cadillac cars moving into the electric future? Inquire about the Cadillac CELESTIQ, a beautiful car with modern sensibilities. This ultra-luxury sedan is also all-electric, which can save you time and money at the gas pump and on oil changes.
Explore all our new Cadillac cars for sale to find the one that works for you – whether you are looking for something to turn heads on your commute to Chaparral, NM, Anthony, NM, or somewhere in Texas.
Meet a Stunning New Cadillac SUV
Do you need more room, or are you interested in more ground clearance? Consider one of our new Cadillac SUVs. Six unique models vary from compact and classic to spacious and contemporary. Explore the complete lineup here to find the one that checks off all the boxes on your list.
Cadillac XT4
A sporty compact model that is versatile and capable is what you can expect from the Cadillac XT4. Seat five, enjoy 48.9 cubic feet of max cargo space, and discover an array of built-in features.
Cadillac XT5
The Cadillac XT5 is another compact SUV but offers a bit more room throughout. Enjoy up to 63 cubic feet of cargo space and customize your ride more closely by selecting one of its three great trim levels.
Cadillac XT6
Go for a midsize ride in the Cadillac XT6 and enjoy gorgeous design elements with more space for you and up to six other passengers. You will also love the ease of available Super Cruise driver-assistance technology.


Cadillac Escalade
Full-sized and full of fantastic features, the Cadillac Escalade seats up to seven passengers in three rows and surrounds everyone with luxe comfort while offering powerful performance from a 420-horsepower V-8 engine that can help you tow up to 8,200 pounds when properly equipped.
Cadillac Escalade-V
This supercharged V-8 engine can achieve up to 682 horsepower and 653 pound-feet of torque. You will also love the smooth ride provided by this SUV's magnetic ride control, air ride adaptive suspension, and electronic limited-slip differential.
Cadillac LYRIQ
Making a recent introduction to the Cadillac lineup, the Cadillac LYRIQ is ready to take on the road with electrified power as one of the new 2024 Cadillacs for sale in our showroom. 314 miles of range,1 available all-wheel drive, and plenty of room for you, your passengers, and the cargo you love make this a versatile pick.
Our new Cadillac SUVs for sale set the stage for incredible adventures near Canutillo, TX, and in the surrounding cities.
Shop for a New Cadillac for Sale Near Fort Bliss, TX
At Bravo Cadillac, shopping for new Cadillacs for sale is simple. Explore our selection of 2023 Cadillacs for sale or learn about new 2024 models. You can even see what new vehicle specials we have going for your favorite sedan or SUV. We are located near Santa Teresa, NM, and are within an hour of Vado, NM, too, if you are from those areas and want to take a test drive.
Frequently Asked Questions
Why should you buy a new Cadillac vs. a pre-owned Cadillac model?
Buying a new Cadillac model provides you with the latest features, which can be especially important if you are interested in electrification technology. You also have the reassurance of knowing that this vehicle has had no previous owners, its full life span's worth of mileage, and Cadillac New Vehicle Warranty coverage. When you purchase a new vehicle, you also have the option to build it closer to your preferences.
What benefits are offered to new Cadillac owners?
New Cadillac owners often get access to a 4-year/50,000-mile Bumper-to-Bumper Limited Warranty,2 a 6-year/70,000-mile Powertrain Limited Warranty,2 6-year/100,000-mile Rust Protection Coverage,2 6-year/70,000-mile Roadside Assistance access,2 and covered maintenance for your first service visit.2 If your vehicle is receiving warranty-eligible repairs, you also get courtesy transportation.2
What are the most popular new Cadillac models in 2023?
2023 is an amazing year for Cadillac, with the new Cadillac LYRIQ finally appearing and other popular models making their statements in the lineup. Enjoy popular models like the Cadillac CT4, a sleek sedan ready for your daily drives around Homestead Meadows South, TX, and the surrounding areas, or the Cadillac Escalade, an iconic SUV sure to catch eyes and turn heads.
Do Cadillacs hold their value well?
Cadillac cars often depreciate at a slower rate than other luxury vehicles, which can give you even more reason to invest in one. This is likely due to their classically good looks and high performance. However, you can also opt for a pre-owned Cadillac model since pre-owned vehicles depreciate less sharply after purchase than new models tend to.
How long do Cadillac vehicles usually last?
Cadillac vehicles have a long life span when well cared for and maintained. Keep your Cadillac vehicle in proper shape with oil changes, regular inspections, and responsible driving, and it can go as far as 200,000 miles. This can allow you to enjoy your new Cadillac vehicle for potentially 20 years or longer if you drive 10,000 miles annually.
Why should I choose Bravo Cadillac of El Paso to buy my new Cadillac car or SUV?
Come to our Cadillac dealership in El Paso for your new Cadillac car or SUV because we have a wide selection and a team of knowledgeable and friendly experts ready to help you tour, test drive, or build the right vehicle for you. We've earned a positive reputation in the community and work every day to maintain it. We can also maintain your new car at our service department.
View Our Selection Of New Cadillac For Sale In El Paso, TX:
---
1Actual range will vary based on several factors, including temperature, terrain, battery age, loading, use and maintenance.
2Warranties listed on this webpage shall not be solely relied upon. Warranties may be subject to specific terms, restrictions, exclusions, and fees. Additional warranty information may be obtained by visiting the official website of the warranty provider. Contact our dealership for complete details.